Accident – Death – Obituary News :
Nude Body of Woman Found in West Coast Berbice Backlands
By Michael Khan
November 19, 2023
The lifeless body of a 48-year-old woman named Daniele Charles, also known as 'Miss', was discovered in the secluded backlands of the Experiment New Housing Scheme in West Coast Berbice (WCB). The shocking finding was made by Guyana Sugar Corporation (GuySuCo) workers on Sunday, November 19, 2023, as they were carrying out their duties in the area.
According to reports, Charles had been socializing at a bar in Bath Settlement the previous night in the company of her relatives and two friends, one male and one female. While her relatives left the bar, Charles chose to stay with her companions. The following day, unidentified individuals alerted the police to the location where her lifeless body was discovered.
Upon the arrival of law enforcement, it was revealed that the nude body was accompanied by a multi-colored blouse, suspected to have bloodstains, a pair of 3/4 pants, and undergarments that appeared to have been cut open. Region Five police detectives meticulously processed the crime scene, collecting and sealing all relevant evidence.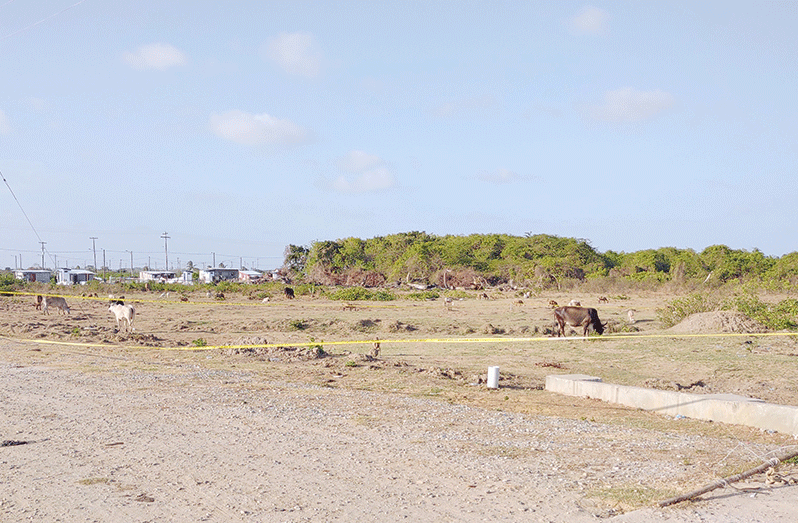 Preliminary examination conducted by the police revealed the gruesome details of the crime. The victim had suffered six stab wounds in the abdomen, one in the left side breast, two in the throat, and one in the center of the chest. Yeukini Charles, the son of the deceased, informed investigators that his mother had called him around 03:23 hrs on Sunday. During the call, she asked if he was alright, to which he replied positively. However, he noticed an unsettling silence in the background, and when he inquired about her well-being, the call abruptly ended. Subsequent attempts to reach her went unanswered, leading to growing concern.
Residents of the Experiment New Housing Scheme expressed their shock and disbelief upon learning about the presence of the woman's body concealed within the nearby bushes. The discovery was made by the estate workers, who immediately alerted the community. One resident shared, "We were completely unaware of what had transpired in the area while we were enjoying our lunch break. It was only after the estate workers raised the alarm that we became aware of the deceased. We were anxious to determine if she belonged to our community."
Meanwhile, at the Region Five Police Headquarters in Fort Wellington, several individuals identified as relatives and friends of the deceased had gathered. However, they declined to provide any information to the media, adding to the mystery surrounding the case.
Daniele Charles worked as a labourer for the Drainage and Irrigation Department at a Neighbourhood Democratic Council. Her body currently awaits an autopsy at Bailey's Funeral Parlour, while the police have taken two individuals into custody as part of their ongoing investigation.
.